The Well Gardened Mind by Sue Stuart-Smith

I was not well after losing our dog and John saw me working in the garden. After reading a review he ordered me this book and it is very inspiring.
Sue Stuart-Smith is the wife of the award winning garden designer, Tom Stuart-Smith. She is a psychotherapist and for many years has studied the effects of gardening on mental health.

This book is the result of her research and is highly readable and not complicated. Having been stressed after our loss I can vouch for the benefits of gardening and generally being outside.
She has visited such diverse places as prisons and hospices, written about bringing gardens to cities. She has seen the way prisoners, lost without a purpose, have come to life and even gained horticultural certificates after working in the gardens.
Sue and her husband have developed gardens for spinal patients in six out of eleven units. Patients can be wheeled into the gardens on their beds and have been found to improve mentally and physically. Soldiers in the First World War even made flower gardens in the trenches.
It is not natural to be 'cooped up'. In the lockdown most people have tried to get outside as much as is possible. I have spent many hours in the garden and always finish feeling much better and tired in a relaxed way. Florence Nightingale knew the value of patients being able to have flowers in their rooms. It has been found that if a patient in a hospital can see trees from a window they recover more quickly.
This is a life affirming moving book beautifully written with lovely photographs which would make a lovely present for someone.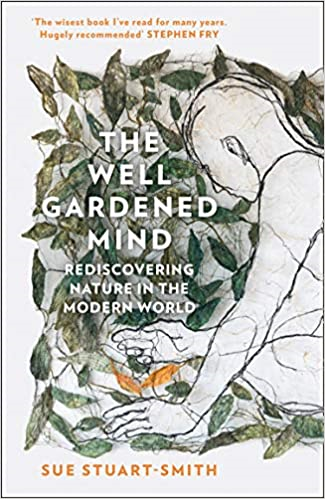 By Frances Hodgson Burnett
Gardens are the theme of this month's books. I read this book when I was about ten and remember loving it very much. I used to look for doors in walls and imagine a secret door behind.
The Secret Garden was written in 1911 and has everything. There is a disturbed orphaned child sent back to England from India, a hunchbacked uncle, a maid, a hidden disabled boy, a secret locked garden and then finally a happy ending.
Mary is at first a rude, sour child, bitter from her experiences in India when she lost her parents.
At the start of the 20th century illness nearly always killed people and so this story is full of people left behind by death. Disabled children, bereft of medical investigation, were often put into institutions or shamefully secreted in a room to spend their lonely lives in bed.
The disabled boy, Colin, and Mary soon find happiness in the secret garden accessed by a key found by Mary who starts to blossom. Along with the gardener, and a robin, Mary soon makes more friends and becomes less lonely.
The book is set in a remote part of Yorkshire and some of the characters' speech is written in dialect. The book is certainly of its time with maids and gardeners employed at the vicarage, but I think it is a lovely spotlight on the social history of that period.
I really do not want to reveal the plot. All ends well and there is the theme of rebirth in this book. Mary recovers at last finding joy and happiness and wonderful things also happen to Colin.
I see Colin Firth is to appear in a new version of The Secret Garden.